Poor President Obama. He has to endure nonsense like the front page
LA Times story
this morning calling him the "velcro" president, as compared with Ronald Reagan, the "teflon" president. The thesis of the article is that whatever problems occurred during the Reagan era never seemed to stick to the president, as those surrounding him were better able to absorb responsibility; whereas President Obama seems to attract the blame for everything people are unhappy about during his administration. As the article states:
Reagan was able to glide past controversies with his popularity largely intact. He maintained his affable persona as a small-government advocate while seeming above the fray in his own administration.
One small problem that undermines this thesis, is that it buys into the enduring myth of Reagan's incredible popularity. According to
Gallup
, however, at this exact point in Reagan's presidency, Reagan's approval rating was 42%. Obama's is currently 45%. Let me repeat that for the hard of hearing. HELLO LA TIMES REPORTERS: OBAMA'S APPROVAL RATING IS THREE POINTS HIGHER THAN REAGAN'S! So why aren't these reporters writing that it is Obama who is actually the teflon president, because he seems to be exceedingly popular despite the difficult times we are still facing, while Reagan is actually the president that people were blaming for whatever problems existed in 1982? (By the way, I remember 1982, and the problems we had in 1982 were nothing compared to what we are dealing with today.)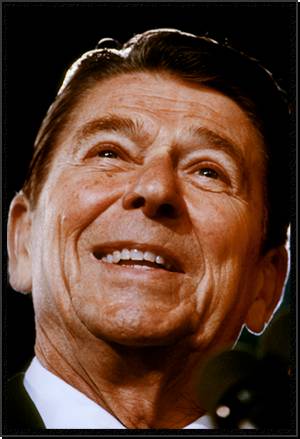 There is a second fallacy in this kind of story. It seems to suggest that having a president who smilingly stays above the fray, and in fact, doesn't seem to have a clue about what is going on all around him, is somehow . . . a good thing. Whereas having a president who strictly adheres to Truman's "buck stops here" doctrine, and who stays on top of every situation is somehow seen as a problem. Once again, hello? Don't we want a president who takes responsibility and who knows what is going on? Maybe President Obama should embrace the label of "velcro president," and maybe the American people should feel grateful that instead of a president with the "what, me worry?" look of his predecessor, we have an administration that is working hard to solve some very difficult problems.
(This is not an endorsement, just a photo acknowledgement, but you can actually buy these cute velcro patches
here
.)